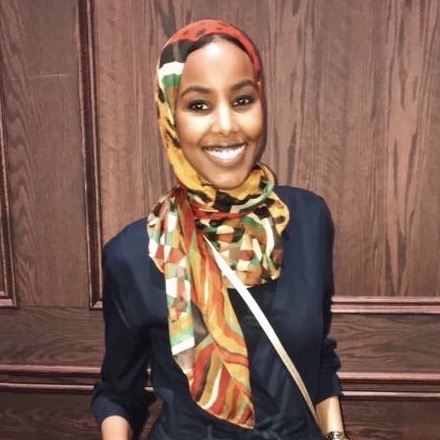 Polymath seeking a new challenge.
Meet Muna Ali, a Canadian of Somali origin. After having worked at the intersection of science and business, she joins this year's MBA-cohort at Cambridge to bring her skills to the next level—and becomes a member of our growing Filentia community.
After working in the pharmaceutical industry for nearly five years, Muna is seeking new growth opportunities. A Canadian pharmacy graduate of Somali origin, Muna combines a capability for deep analysis with lateral thinking. She has used this unique ability with great success in complex and capital-intensive projects. With one eye on the technical aspects of her work and the other on the macro-level, Muna helped implement new technologies and packaging designs at Teva Pharmaceuticals, an area with the highest demands for quality. Having identified her talent at the intersection between science and business, Muna is now going to the University of Cambridge for an MBA that will help her enhance her impact through top-tier management and leadership skills.
Filentia: Muna, why did you choose to do an MBA in Cambridge?
Muna: It was a great fit. My goals and ambitions aligned well with Cambridge's visions. I loved how the curriculum was organized and loved the fact that there was a concentration for Healthcare. I'm extremely passionate about Healthcare and the Cambridge MBA would provide me the knowledge, skills and resources to achieve my short and long term goals. The admission team is one of the best teams I dealt with and the school is located right in the heart of Silicon Fen. Last but not least is the school's brand. No matter what organization you join, people know Cambridge and that's an extra bonus you get when you do your MBA in Cambridge

Filentia: Tell us about one epiphany moment that changed how you think?
Muna: "One epiphany moment that really started this whole MBA journey happened during a Pharmacoeconomics class in my final year during my undergrad. I studied Pharmacy and always thought that I would work as a pharmacist most probably in a clinical setting. But that all changed when I took this class. I was fascinated with business concepts and how drug benefits and side effects could be translated into monetary values. That's when I decided to do a MBA post-graduation and to pursue a career in the Pharmaceutical industry to ease the transition from pharmacy to business."

Filentia: What do you most look forward to for your time in Cambridge outside of the classes?
Muna: "I'm looking forward to joining every single extracurricular activity on and off campus. This is a great way to try something new. One club that I'll definitely join is the rowing club at Hughes Hall."

Filentia: What is it you wish you knew when you finished high school?
Muna: "One thing I wish I knew when I finished high school and university is that you need to work on your soft skills as much as or even more than getting good grades. Your future employer won't look at whether you got straight As or finished your assignment on time. What really matters are transferable skills for example leadership and teamwork."

Filentia: What advice would you give someone who wants to go to study at Cambridge?
Muna: "Start as early as possible. It's a long process and not an easy one. Do your research and actually attend open days or information sessions. You get a feel of the school and whether the school is a good fit for you and vice versa. Another thing is to speak to the alumni as well. They have a lot of information, are willing to help and guide you throughout the process. They would be able to relate to you the most."
Filentia is driven to help highly talented individuals like Muna use their talent to the full by providing flexible loans and comprehensive career services.